Can use in room or outdoor easily with superior waterproof performance. Pinpoint Zone Detection: 24 zones shows precise target locations on the left, center and right side of the body from head to toe. High technology attractive 7-inch HDMI LCD touch screen Design Automatic recording number of people passed, alarming times and strength of interference on the large LCD. Self calibration when turn on.
Each menu Protection with password: The protection from the password can only allow the authorized person for the operations. It is highly safe.
Professional detection process: built in 60 different detection occasions(providing upgrade services)
Detection speed: more than 50 people pass and detect in 1 minute. High capability of anti-interference: The adoption of digital, analogy and left and right balanced technology can prevent false or omitted alarming, which greatly enhance the capability of anti-interference
Other Metal detectors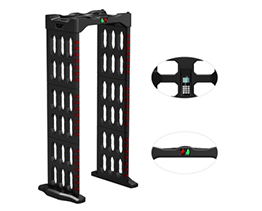 WT-1200 Portable
Versatile walk-through metal detector, it can be deployed and transported virtually to any location & be up and running within 5 minutes.
More Info